In this short programme we look at some events in village life, with church and secular music suited to the seasons and occasions.
Our programmes are continually improved, and different music may be substituted from time to time.
Otford tune first appeared in 1746 in Michael Beesly's Collection of 20 New Psalm Tunes, for Psalm 8 in the Old Version of the Metrical Psalms. It is fairly widely known, and became a favourite of the Thomas Hardy family band for While Shepherds Watch'd.
Old Foster is by John Foster (1762–1822) of Chapeltown near Sheffield, for Psalm 47 Old Version. He is also credited as being the magistrate who made cock-fighting and bull-baiting illegal in Yorkshire. The tune later became popular for While Shepherds Watch'd in the Sheffield pub carol tradition.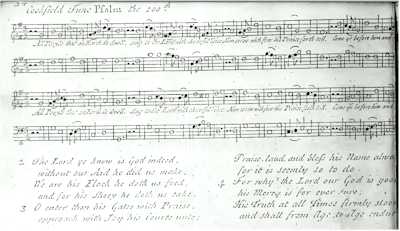 Cookfield is a grand tune from The Psalmist's New Companion published by Abraham Adams of Shoreham, Kent in the 1750s. The familiar words of the Old 100th are by William Kethe, a contributor to the Old Version of Sternhold & Hopkins.
Aberfeldy tune is from the Scottish tune book compiled for use with the Scottish Psalms in Metre of 1633. The words are part of the Scottish paraphrase of Psalm 145. Certain verses are commonly used at Rogation and Harvest.
Lonsdale tune was adapted in 1788 from a gavotte in a violin sonata by Corelli, and is very widespread. It is in three manuscripts (MSS) from Hampshire. We sing words from Isaac Watts' paraphrase of Psalm 133, and by John Fawcett (1740-1818).
Dance: Sir Roger de Coverley. Tunes: Sir Roger de Coverley and Come fly, let's a' to the Bridal, both arranged for our band.
The Sweet Nightingale is a well known folk song. We have arranged it hoping to capture the effect of the spontaneous harmony one might hear in a local pub. Please join in the chorus.
Canon of 4 in 1 is from Joseph Farmer's MS from Bramley, with words we recognise as a paraphrase of Psalm 128. The music was originally composed for different words by William Tans'ur (1700-1783). The two MSS from Bramley in Hampshire Record Office contain many Psalm tunes and a few anthems, and are typical of such MSS used all over the country through the 18th and early 19th centuries.
The Shropshire Funeral Hymn comes from the MS of Thomas Owens dating from about 1780 to 1820. We know of no other source for either words or music.
Flaming Seraphs was collected and somewhat edited by Dr. Ralph Dunstan and included in the Cornish Song Book of 1929, although the tune is probably much older. Dunstan says he took "Melody and Bass from Mr. W. Cowling, Bolingey" [nr. Perranporth]. Mrs Edith Jewell of Holsworthy (Devon) is quoted in a note, "this carol has been sung at Stratton [by Bude, Cornwall] from time immemorial so far as our fathers and grandfathers can recollect."
Medley – Words by the Wesley's friend Edward Perronet (1726-92). Tunes:Miles Lane by William Shrubsole (1760-1806), 1779. Diadem by James Ellor (1819-99). All Hail! by Mike Bailey, 2002.
Harvest Home appeared in King Arthur, 1691, by Purcell, was included by Sandys in his Festive Songs, 1856, and in many folk-song anthologies since. Please join in.
I sowed the seeds of love is supposed to be the first song collected by Cecil Sharp in Somerset. The words go back to the 17th century, and the song has been collected in many places. George Gardiner collected versions in Lyndhurst, Titchfield and Cheriton.
Jubilee tune was composed by Isaac Tucker of Westbury Leigh and published in his Sacred Melodies... of 1812. The words* are by Charles Wesley in Songs for the New Year's Day, 1750.
Rule Britannia was the finale of Alfred, 1740, with words by James Thomson (1700-48) and music by Dr. Thomas Arne (1710-78), who used it to stir up patriotic fervour in his Drury Lane audiences during the '45 Jacobite rebellion. Our setting, ca.1815, is by Vincent Novello 1781-1861, organist at the Portuguese Embassy chapel in London, together with Arne's introduction.
Portsmouth New is a widespread Psalm tune, used for various words including *Blow ye the trumpet, blow. It was also used as a march tune, as here.